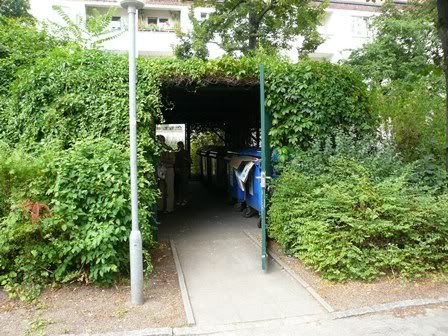 The lines between trash and recyclables are blurry and a favorite source of arguments, at least in our house. We've never gotten straight answers on issues like cardboard packaging with glossy outside layers (does it go in the paper can or not?), broken glass (with the bottles or the trash?), or plastic toys.
The Germans, however, seem to have got this down. The city of Berlin, for instance (where I arrived a couple of days ago), mandates everybody to sort their trash into 6 categories, and with great educational effort, the government makes sure every trash-producing citizen gets it.
Accordingly, the trash cans you can buy in the stores here have partitions. And most people seem to religiously follow the rules. In many places, this has created new architectural demands as well.
A few years ago, my mom and stepdad moved into a beautifully renovated apartment in a 1920s/1930s Bauhaus development in Berlin, Germany). Historic conservation law made it impossible to create suitable garbage rooms inside the buildings. The large, restored courtyard, a park-like oasis with lawns, benches and playgrounds, had the space.
Now you find a huge cage thing, all grown over with pretty vines, in the middle of the yard. You can only get in there with keys (!), and inside, there are color-coded receptacles complete with instructions. I've observed people leave their building with several little bags, enter the green sanctuary, and then calmly sort through their offerings.
It was admirable. But then I tried to imagine this in a Washington, DC, apartment building. From luxury condos to housing projects, I dare say, the method wouldn't work.
I remember how 20 years ago our friend Marc Fisher, then the Washington Post's Berlin bureau chief, was traumatized by the elderly guy in his apartment building who made sure nobody contaminated one category with items from the others (if Marc or his family dared sticking a bottle in the trash, they'd have to fear for their life). How much easier his life would have been if they'd already had those wonderful category posters back then.
© 2012, Catarina Bannier 
www.BannierHomes.com
www.DCHouseCat.com
www.DCHouseSmarts.com